The Great Bear Rainforest
The largest tract of intact coastal temperate rainforest left in the world and prime grizzly bear habitat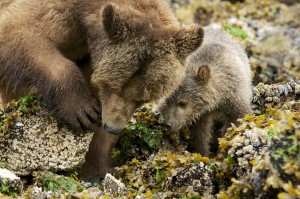 Located on the west coast of Canada, the Great Bear Rainforest reaches from the British Columbia-Alaska border to just south of Knight Inlet on mainland British Columbia. Including all of the coastal islands within the area, this region covers roughly 64,000km² and is the largest tract of intact coastal temperate rainforest left on the planet. The 1.5m to 3.5m of precipitation received annually helps feed over 2500 salmon spawning creeks, rivers, and streams that flow down from snow-capped peaks and glacial valleys to lush, biodiverse coastal estuaries.
The Great Bear Rainforest and the ocean that touches its shores are home to a wide array of mammals, birds, marine life and other species; brown bears (grizzly bears), black bears (including the Kermode/spirit bear), cougars, coastal wolves, bald eagles, marbled murrelets, killer whales, humpback whales, Steller sea lions, and five species of Pacific salmon are just a handful of species that thrive in the area. 
It has remained intact because its remoteness has limited human development and industry. As a result, old growth forests and productive watersheds can still be found along the inlets and on the islands of the Great Bear Rainforest. In 2006, the Province of British Columbia and First Nations leaders from across the area committed to protecting roughly one third of the area from logging and mining activities via conservancies, with a promise to increase that number over time. By 2015, an area of approximately 13,600km² was designated as Conservancies, 3,000km² as Biodiversity, Mining, and Tourism Areas, and 13,000km2 as Grizzly Bear Management Areas (where hunting of the species is prohibited).
The Pacific Ocean brings its diverse marine life inland through steep inlets carved out of the Coast Mountains by ancient glaciers. As the Pacific snakes its way inland, the mountains become taller, the landscape becomes steeper, and the valleys become deeper. The Great Bear Rainforest includes many of the rugged islands of the Northern BC coast including renowned Princess Royal Island; home to brown bears as well as an unusually high density of Kermode/spirit bears (black bears with white fur due to a recessive gene).
---
From turbulent tidal seas to snow-capped mountains, productive river valleys to frigid glacial calderas, dense coniferous forests to hearty berry meadows, and rushing streams of salmon to brackish coastal estuaries, the Great Bear Rainforest is home to the brown bears (grizzly bears) we study.